Voter Registration Deadline: February 18
Gary Click is the only candidate that is a 2020 Trump delegate, endorsed by the Ohio Republican Party, Governor Mike DeWine, Lt. Governor John Husted, Treasurer Robert Sprague, Sheriff Chris Hilton and mayors across the 88th district.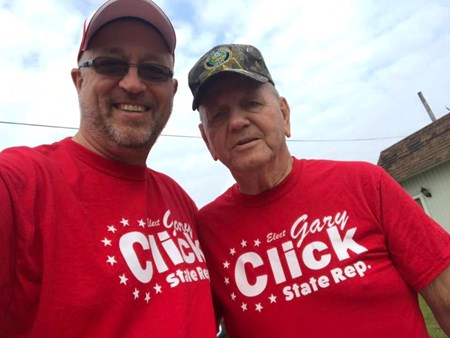 Gary will
Defend the Unborn
Stand up for the Second Amendment
Work to Lower Taxes
Advance Reduced Regulations
Stand with President Trump
Listen to YOU!
Elections Calendar
Click here to register to vote online or register a change of address with the Ohio Secretary of State. Click here to check your voter registration status. Below are import dates on Ohio's election calendar. Click here for a more detailed calendar on the Secretary of State's homepage.
2019
Description of Event
Reference

Dec. 18

Declarations of candidacy for partisan candidates must be filed by 4 p.m. (90 days before presidential primary election)

Dec. 18

Declarations of candidacy for presidential delegates and alternates to a party's national nominating committee must be filed by 4 p.m. (90 days before presidential primary election)

Dec. 18

Applications for absentee ballots for the March 17, 2020 presidential primary election may be accepted (90 days before presidential primary election)

R.C. 3509.03(opens in a new window),3511.02(opens in a new window)

Dec. 30

Boards of elections must certify the validity and sufficiency of partisan candidates' petitions (78 days before presidential primary election)

2020
Description of Event
Reference

Jan. 01

Applications for absentee ballots for all 2020 elections may be accepted (first day of the year; presidential primary election applications for absentee ballots accepted starting Dec. 18, 2019)

R.C. 3509.03(opens in a new window),3511.02(opens in a new window)

Jan. 07

Form of official ballots for the March 17, 2020 presidential primary election must be certified by Secretary of State to boards of elections (70 days before presidential primary election)
Boards of elections of most populous county in a multi-county district must certify the names of all candidates to other boards of elections (70 days before presidential primary election)

Feb. 18*

Deadline for voter registration for the March 17, 2020 presidential primary election (30 days before presidential primary election)

Oct. 05*

Deadline for voter registration for the Nov. 3, 2020 general election (30 days before general election)

Oct. 31

Applications for absentee ballots to be mailed for the Nov. 3, 2020 general election must be received by boards of elections by noon (3 days before general election)

R.C. 3509.03(opens in a new window),.08(opens in a new window),3511.02(opens in a new window)

Nov. 03

General Election Day. Polls open from 6:30 a.m. to 7:30 p.m.

R.C. 3501.01(opens in a new window),.32(opens in a new window)