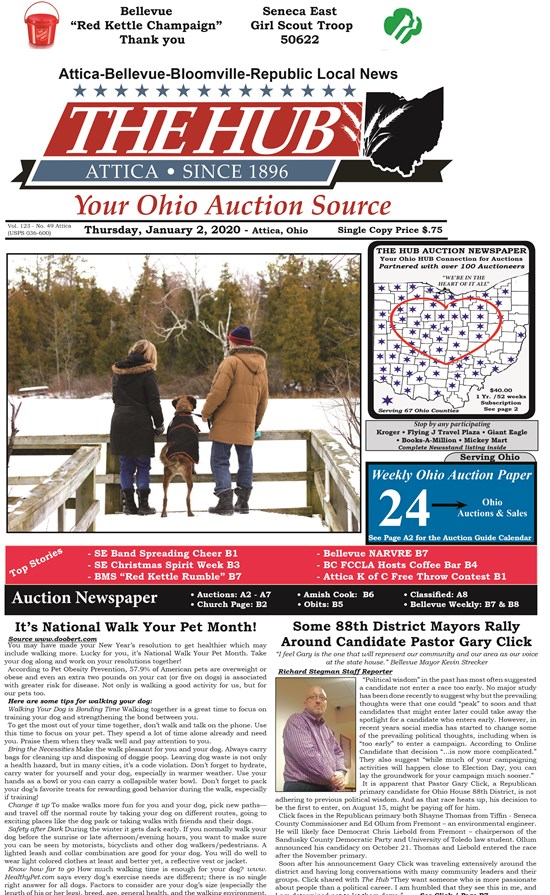 Attica-Bellevue-Bloomville-Republic Local News
THE HUB
"I feel Gary is the one that will represent our community and our area as our voice at the state house." Bellevue Mayor Kevin Strecker
Richard Stegman Staff Reporter
"Political wisdom" in the past has most often suggested a candidate not enter a race too early. No major study has been done recently to suggest why but the prevailing thoughts were that one could "peak" to soon and that candidates that might enter later could take away the spotlight for a candidate who enters early. However, in recent years social media has started to change some of the prevailing political thoughts, including when is "too early" to enter a campaign. According to Online Candidate, that decision "...is now more complicated." They also suggest "while much of your campaigning activities will happen close to Election Day, you can lay the groundwork for your campaign much sooner."
It is apparent that Pastor Gary Click, a Republican primary candidate for Ohio House 88th District, is not adhering to previous political wisdom. And as that race heats up, his decision to be the first to enter, on August 15, might be paying off for him.
Click faces in the Republican primary both Shayne Thomas from Tiffin - Seneca County Commissioner and Ed Ollum from Fremont - an environmental engineer. He will likely face Democrat Chris Liebold from Fremont - chairperson of the Sandusky County Democratic Party and University of Toledo law student. Ollum announced his candidacy on October 21. Thomas and Liebold entered the race after the November primary.
Soon after his announcement Gary Click was traveling extensively around the district and having long conversations with many community leaders and their groups. Click shared with the Hub "They want someone who is more passionate about people than a political career. I am humbled that they see this in me, and I am determined not to let them down."
According to Gary Click the following Mayors have endorsed him. Some did so before Shayne Thomas or Chris Liebold entered the race.
Bryan Shock - Attica
Kevin Strecker - Bellevue
Scott Black - Clyde
Bruce Perry - Lindsey
Jeff Larick - Republic
Ron Smith, Bellevueu City Council President has also endorsed Click.
Attica Mayor Bryan Shock in his endorsement states "I have spent time with Gary, and I am convinced that he is the best person to represent us in the statehouse." Clyde Mayor Scott Black said, "after meeting with Mr. Click several times and speaking with other people who know and respect him, I have decided to endorse Mr. Click..."
Bellevue Mayor Kevin Strecker of Bellevue, a registered Independent states:
In the past months, I have had the opportunity to get to know Gary Click. Mr. Click is honest, pragmatic and has insight into our state's problems and needs. His willingness to examine the issues and listen closely to the questions and concerns from the residents of Ohio, sets him far apart from the other candidates...".
Ron Smith, Bellevue City Council President and also a local Pastor, states "I endorse Gary. Gary has been committed to serving people for many years and will continue by serving his constituents and Nation."
Click shared with The Hub "I have been releasing my endorsements one or two at a time. Expect more to follow."
Gary Click also shared with the Hub that the Donald Trump Campaign has asked him to serve as a delegate from Ohio's Fourth Congressional District for President Trump. "I signed the paperwork on December 5. Jane Timken (GOP State Chair) turned it into the Ohio Secretary of Stat's office on December 16" said Click.
The Hub will continue to cover and report on the happenings in this important 88th House District race for our readers. When we become aware of endorsements for the other candidates, we will inform you.
*Reprinted with permission from The Hub.
Click here to download a pdf version of The Hub.
Visit The Hub's website.