The Hub: Well Known Republican Enters Race for Bill Reineke's 88th District Seat
Reprinted from the Hub with Permission.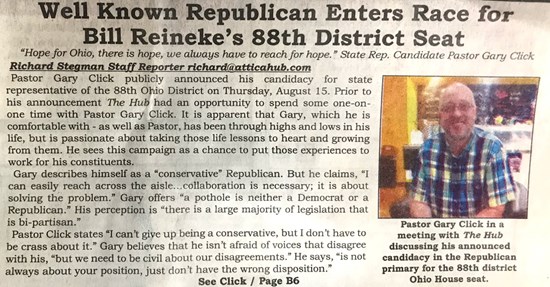 "Hope for Ohio, there is hope, we always have to reach for hope." State Rep. Candidate Pastor Gary Click
Richard Stegman Staff reporter richard@atticahub.com
Pastor Gary Click publicly announced his candidacy for state representative of the 88th Ohio District on Thursday, August 15. Prior to his announcement The Hub had an opportunity to spend some one-on-one time with Pastor Gary Click. It is apparent that Gary, which his is comfortable with- as well as Pastor, has been through highs and lows in his life, but is passionate about taking those life lessons to heart and growing from them. He sees this campaign as a chance to put those experiences to work for his constituents.
Gary describes himself as a "conservative" Republican. But he claims, "I can easily reach across the aisle…collaboration is necessary; it is about solve the problem." Gary offers "a pothole is neither a Democrat or a Republican." His perception is "there is a large majority of legislation that is bi-partisan."
Pastor Click states "I can't give up being a conservative, but I don't have to be crass about it." Gary believes that he isn't afraid of voices that disagree with his, "but we need to be civil about our disagreements." He says, "It's not always about your position, just don't have the wrong disposition."
Gary is a supporter of Donald Trump. He is uncomfortable with how he believes the media unnecessarily attacks the president. "I think the press is unfair to the president" said Gary. He also offers "I don't worry about things from years ago; people can change their lives…God changes all of us." Pastor Click is adamant that the President is not a racist.
Gary has had previous experience in politics and suggests "politics is complicated." Running the Republican County Commissioner's primary taught him "If I am going to run for anything seriously I got to get out and campaign hard." He says, "the commissioner raced opened doors for me; showed I had skills." The Pastor later ran a three-week campaign for he Ohio Republican Party Central Committee. In that election he won 6 out of 7 counties in his district. "union County didn't vote for me, but they love me now" said Gary, with a smile.
The Pastor has other positions of responsibility; Gov. DeWine, "a gentleman" says Gary, appointed him as chair of the governor's Faith Coalition during DeWine's recent campaign. When DeWine took office, Gary was appointed chair of the governor's Evangelical Council.
Concerning issues for the 88th House District Pastor Click recognizes the wind turbines and the opioid crisis are concerns he needs to address. Gary realizes he needs to better understand the issues relative to the wind turbines. But he did mention some important concerns being raised by his potential constituents; life flights, property values, shutter flicker, ice throws and others he surfaced. Gary said "I am running to be a representative; I need to represent those in my district. I recognize a lot of people are speaking out against the wind turbines. I need to put myself in their shoes." He does believe it important for the township citizens to have a say regarding the wind turbine projects.
Pastor Click sees the opioid crisis needing the collaboration of everyone. All political persuasions, government and private sectors, politicians, mental health professionals, law enforcement and educators are solutions to opioids as necessary partners offered Gary. When pastor Gary became aware of BRASS (Bellevue Recovery and Support Services) and the August 31 grand opening of their new offices he showed interest in attending. By attending he believes he can meet others who can educate him further.
But Pastor Click is no stranger to addiction; he has a history of substance use in his family. He shared that his father was an addict. It was through those difficult times that he would here his "hero" – his mother tell him "always have hope." Gary has sort of adopted that from his mother as his campaign message.
I loved my dad, even with his addictions and at times his homelessness" said Gary, "my dad got me drunk when I was 16…addiction is very complicated." The Pastor also state, "Regardless of his problems I could tell my dad did not want me to follow in his footsteps…and my mother never once spoke ill of my father in front of me."
Gary is married with four sons of his own, who all live locally and in Ohio. He lives in Vickery. And he feels "very confident" about his campaign.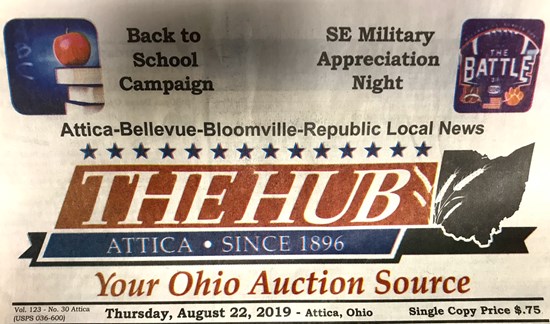 Note: The Hub will continue to follow Pastor Gary Click's campaign. We will also present to our readers others who may in the future announce their candidacy for the 88th House District.