Sunny Farms Landfill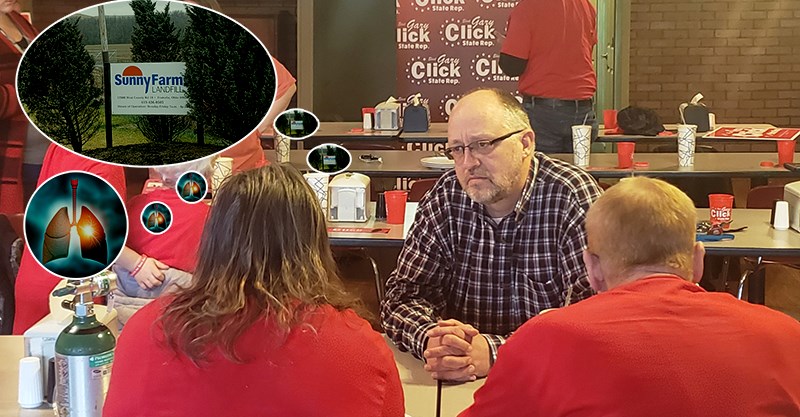 One of the more prominent local issues that demands the attention of our next state representative is the Sunny Farms Landfill. The concerns go far beyond the offensive odor that led neighbors to inform me that they cannot even hang their clothes out to dry. Like many others in the area, they are reasonably afraid to drink water from their own wells. I recently sat with Roberta who shared with me her medical records which seem to validate her claim that the landfill has adversely affected both her and her husband's health. There is no question that the Sunny Farms Landfill has brought money into the community but at what cost? The community deserves for their next state representative to be tuned into the the bigger picture and advocate for them on this vital issue.
The Greater Fostoria Environmental Coalition (Sunny Farms Landfill Complaint Group), has been on the leading edge of this issue demanding action and gaining traction. They have snagged the headlines, drawn attention to the problem and have begun to see some limited results. To be clear, any progress that has been made is the only the beginning and not the end.
The implementation of flares to burn of the H2S (Hydrogen Sulfide) has gone a long way to eliminate the foul odor that emanates from the landfill. While that might feel like progress to some, it may in fact pose a greater risk. As the H2S is burned off it is converted into SO2 (Sulfur Dioxide), another toxic gas. At least with the odor, neighbors know that something foul is in the air. Sulfur Dioxide is less obvious but remains toxic.
When Sunny Farms began dumping its leachate into the sewer system, neighbors five miles away began suspecting that they had a gas leak. In a sense, they did but it wasn't natural gas. The smell of rotten eggs was the Hygrogen Sulfide coming up through the sewer causing headaches, dizziness and other health issues.
Adding insult to injury, the toxic debris that has converted flatland in Fostoria into a mini-mountain range originates 500 miles away in New York and New Jersey and travels by rail to act as a nuisance to its new neighbors. Common sense wonders why we would accept toxic debris from them that they deem too hazardous for their own backyard.
As your next state representative, I am committed to advancing the long-term interests of the people of Fostoria over the economic promises that may cost us and our children their health and security. I will work to keep Sunny Farms accountable, limit the tonnage coming in and resist all efforts at expansion. I believe that it is important to align our definition of hazardous materials to harmonize with the stricter standards of other states.
While fiscal leadership and economic development are vital issues for any community, we must always undertake a cost/benefit analysis. Some funds are simply not worth the long-term cost. Not all development is good development. Some growth is cancerous to our community and is simply not worth it. We cannot put a price tag on the health of our most vulnerable senior citizens, our fragile youth or even ourselves.
The solution to these issues will be determined by effective communication and cooperation between concerned citizens, locally elected officials, the OEPA and the management of Sunny Farms. My pledge is to do all that is in my power to facilitate these efforts.
My commitment is to place the community first in every way and on every day.